ONLINE SAFETY DURING THE PANDEMIC!
During lockdowns and the pandemic the use of social media and technology has grown dramatically, not only for recreation but now more than ever for contact with others and for schooling. 
We must remain vigilant during this time to be aware of what our children are doing online and how we can keep them safe. All classes will cover e-safety and how to remain safe online but it is vital that during this time of lockdowns and separation that we are aware of how they are using technology at home.  
The NSPCC has worked with O2 to create a useful video for parents about keeping children safe in our growing world of technology. It also links you to net-aware.org.uk which is a brilliant website for parents and carers to find out new information. 
If you have any concerns then please contact childline (not just for children,) net-aware.org.uk or CEOPS (the button below will link you straight to them to make a report. 
Some other useful links:
DO YOU NEED HELP SETTING UP FILTERS OR PARENTAL CONTROLS?
NSPCC can help, follow the link below to see the useful information about parental controls
https://www.nspcc.org.uk/keeping-children-safe/online-safety/parental-controls/
If you have a concern about your child's e-safety then you can contact the police.
When should I report to CEOP?
 
We help children stay safe online. Has someone acted inappropriately towards you online, or to a child or young person you know?
It may be sexual chat, being asked to do something that makes you feel uncomfortable or someone being insistent on meeting up. It maybe bullying or harassing behaviour? You can report it to us below.
Simply click the CEOP logo!
S
It will take you here....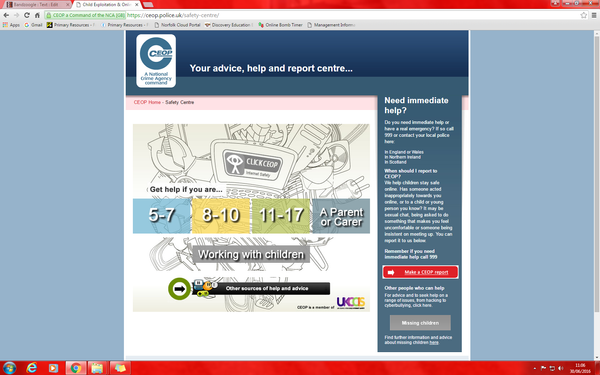 And you can report whats happened! 
IF YOU SUSPECT IT...... REPORT IT!
UPDATED INFORMATION FROM THE NSPCC AND POLICE ON KEEPING OUR CHILDREN SAFE
Do you know about new apps and what they do?