Ingoldisthorpe C.E. Primary School's broad and balanced curriculum is designed to stimulate and nurture each child's developmental needs. We use whole class, group and individual teaching approaches to ensure that every child's potential is fully realised. The school understands that, for a child to succeed academically, importance must be placed on their happiness, well-being and security. One of our many strengths is achieving this aim.

The curriculum is designed to contribute to children developing lifelong learning skills. It is designed to be relevant to our children and takes into account different individual learning styles. To achieve this, the curriculum is divided into themes and topics, combining different subjects of the New National Curriculum. It focuses on developing basic skills in reading, writing, speaking and listening, maths and Computing. We ensure our children receive a wide range of stimulating opportunities for learning during their school life. A variety of teaching strategies are employed with an emphasis on creativity to motivate pupils and encourage a love of learning. We also pride ourselves in providing numerous opportunities for children to learn about keeping safe and healthy, by encouraging participation in physical activity and learning about and making healthy lifestyle choices and staying safe. We recognise the importance of pupils taking responsibility for their own learning. We deliver a 'Learning Without Limits' curriculum, detailing the progressive way we will enable pupils to become independent learners.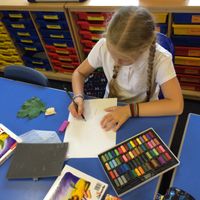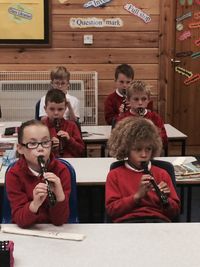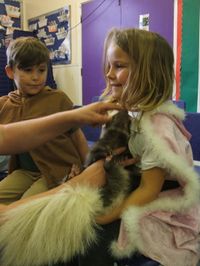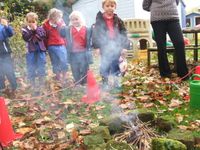 EARLY YEARS CURRICULUM

In the Early Years Foundation Stage the curriculum is delivered in a creative and engaging manner, using books, literature and music as a stimulus. We use the 'Development Matters' document to inform the planning of indoor and outdoor challenges and incorporate ideas from the children as often as we can. This is continued in the early stages of Year 1.

All children in our school follow the New National Curriculum programmes of study including;

Core subjects:
English, Mathematics, Science, Computing and R.E.


Foundation subjects:
Design and Technology, Art and Design, History, Geography, MFL, Music, P.E. and Relationships and Sex Education.


Creative curriculum:
Ingoldisthorpe C.E. Primary School continues to work tirelessly to provide a creative, inspiring and challenging curriculum for all of our children. A major part in our work has always been to ensure that 'pupil voice' drives the planning, so that the curriculum is relevant to our children. We use our wonderful outdoor learning environment whenever we can to enrich and challenge our children's learning.

The curriculum ideas are tailored on all levels, from the theme of the individual projects and the selection of relevant 'Wow moments' to the actual projects teachers and children choose. Additionally, as the learning becomes more child-negotiated throughout each project, each class will find different ways of delivering the provocations and different ways of expressing the learning.

The school uses Jolly Phonics and Expresso Phonics to teach phonics and uses the Oxford Reading Tree scheme throughout school. The library is well-resourced with a wide range of fiction and non-fiction books for all ages. It also has a large range of guided reading book sets, too.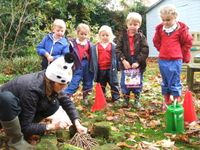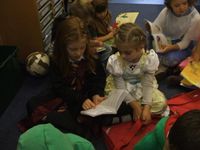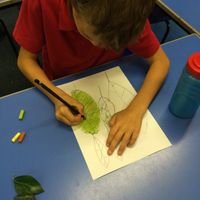 RE & COLLECTIVE WORSHIP

Our School is a Voluntary Aided (VA) Church of England school, and as such maintains the traditions and doctrines of the Anglican Church. Members of the congregation of St Michael's Church visit the school regularly to lead 'Open the Book' Collective Worship. The children attend special seasonal services in our Parish Church every term. Reverend Mark Capron is a member of the Governing Body and takes an active role in supporting the aims and values of the school. 

Curriculum:
This consists of the National Curriculum and Religious Education. At Ingoldisthorpe Church of England Primary School, children are taught Religious Education (RE) following the guidelines of The Agreed Norfolk Syllabus The syllabus is based primarily upon Christianity, including the Anglican dimension. However, the Governing Body believe that it is important that children are taught about other faiths as they grow up in an increasingly diverse and multicultural society. RE is assessed using Age-Related Expectations.

Collective Worship:
There is an act of Collective Worship each day which is a legal requirement. This is a special time in our school day, central to our Christian foundation and ethos, when the school community comes together to pause and reflect. As a Church of England school our collective worship reflects the teachings and traditions of the Anglican church and is also an educational activity appropriate to the ages and aptitudes of our pupils. Collective Worship is led, at different times, by teachers, our Vicar, other church leaders and the children themselves. We have an ethos statement each week which is developed by all who lead our worship. These statements are chosen to give the children opportunity to think about Christian teaching and how it influences our moral, social and ethical choices. During worship we listen, share ideas, experience stillness and silence, reflect, sing and pray together. Classteachers continue to develop the weekly ethos statement in their classrooms and teaching to ensure Christian values are at the heart of everything we do.  Pupils also have an opportunity to reflect on what they have heard in worship at one of our reflection areas.

In law, parents have the right to withdraw their child from part or all of RE and Collective Worship. Any parents who wish to exercise this right should contact the Headteacher.


SPECIAL EDUCATIONAL NEEDS AND DISABILITIES
The school aims to identify at the earliest opportunity all children who need particular support, to both allow them full access to the National Curriculum and to promote their development and achievements. Children with Special Educational Needs and Disabilities are those who require support additional and different from the usual differentiated activity provided by the teacher. Each child on the Special Educational Needs Register has their own Individual Provision Mapping which identifies the child's strengths and areas for development. We aim to create as full a picture as possible, drawing information from teachers, the child, parents, support staff and other external agencies. This Profile is then used to decide exactly what extra support would be most appropriate.


SAFEGUARDING AND WELL BEING
The school has a wide range of Safeguarding policies and procedures. Our Child Protection policy is available on request and can be found on the school website. All staff are made aware of the procedures in place in relation to Safeguarding through the schools induction process and Staff training.

Any concerns in relation to the safety and well-being of any child should be reported immediately to the school's named persons for Child Protection, Mr S. Wright (Headteacher), Mrs. A. Taylor (SENDCo), Mrs L Howarth (Early Years Leader) or Mrs A. Moore (Chair of Governor).

In addition to this the school has a wide variety of policies and procedures relating to health and safety. Part of this includes our medication policy and procedures. These are available on request and should you need to discuss these further please contact your child's teacher or Mrs Nicoll in the office. 


GIFTED & TALENTED
We recognise a gifted and talented child as demonstrating a significantly higher level of ability than most pupils of the same age in one or more curriculum area or in any of the following:
- academic ability
- creativity
- sport
A range of provision is available for able and talented pupils through:
- planning of challenging differentiated activities and resources that develop higher order thinking skills - 'expert thinkers create expert learners'
- providing challenge in the classroom through investigation, open- ended questions and tasks - we provide scope for our children to think in different ways

To find out about the current curriculum in each class go to
ACORN, HAZEL & WILLOW , MAPLE, or OAK.

Or to find out more about the curriculum we teach in detail, follow the link for the content for each academic year for every subject taught: Curriculum Overview.